DO NOT USE ONE PLACE ANYMORE FOR BATTERY MONITORING. Victron - on the control panel and via Victron Connect app - replaces One Place's battery monitoring function.
Victron Connect (iOS and Android) displays the real-time status of the RoamRig power system. The round Victron gauge on the wall gives the same information as the app without having to open the app.
Victron Control Panel Display (round gauge on wall)
Use +/- to scroll between different screens.
What are the screens?
"Main" voltage: house battery voltage
"Aux" voltage (2018-2020 systems only): chassis battery voltage (Mercedes' starter battery)
Amps: How much current is currently being used (- sign in front of number) or charged (no - sign in front of number...thing of this like MPG)
Watts: very similar to amps for the layperson, but watts are also known as "power" in the electrical world.
Ah: "Amp-Hours"...think of this as how far you are from full. It's the equivalent of saying "I have used 5 gallons of fuel from my full tank". In a 420ah system, this will read -420 when you are at 0%, -210 at 50%, etc.
State of charge (%, aka SOC): this is a calculated value of how full your batteries are. It is correct most of the time, but there are some exceptions to this (see article on drift)
If the Victron display on the control panel is OFF, it means the batteries have reached their internal low voltage shut down and must be reset or the circuit breakers for the batteries have been turned off.
Victron Connect App
Use Victron Connect (iOS and Android) on a smartphone or Bluetooth and app-enabled device to monitor the RoamRig battery status, history, and trends.
Victron Connect can be connected to multiple devices, but not all at the same time.
Always create the Bluetooth connection directly through the Victron App. Do not use the smartphone/device's Bluetooth settings to establish the connection with the RoamRig system, otherwise the connection may not be established properly.
Default passcode is 000000. This can be changed at any time. We recommend changing the passcode so that people at van/camping events cannot connect to your rig. Write it down somewhere so that you do not forget it! We recommend using your birthday as MMDDYY for an easy to remember 6 digit passcode.
If you want to change the name of your device to something more descriptive than the default (again can help with knowing which one is yours at van/camping events), we recommend doing this.
Ignore "time to go". It is not a reliable estimate
Ignore "relay state".
RoamRig will instruct you if settings need to be changed. Do not change settings unless you are advised.
What does all this mean?! What do I need to worry about/monitor??
In general, the ONLY thing you need to look at it State of Charge percentage (indicated as %, otherwise known as SOC). In general, unlike your original AGM batteries, voltage DOES NOT give you an idea of how much battery you have other than you are not empty or you are empty.
A flow chart to make reading the gauge easy: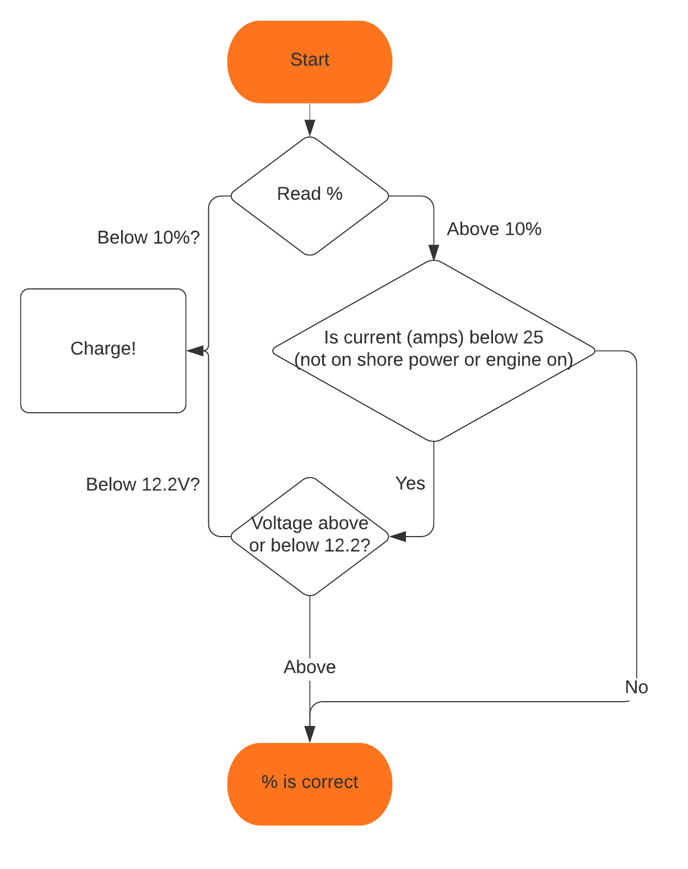 Is SOC accurate all the time?
SOC is a nearly perfect estimate of battery, however you must still take a quick peek at voltage only as it is "truth serum" for the estimate and can tell you if you are running on fumes or about to run out of power (when SOC errors have occurred, it is called "drift").
If voltage is at or around 12V and you are not running a large load like the air conditioner, you should ignore SOC and do something to charge (start engine or plug into shore power) regardless of what SOC says.

Example: SOC = 50%, Voltage = 12.1V and not running AC: charge!
Example: SOC = 30%, Voltage = 12.0V with no heavy electrical loads: charge!
Example: SOC = 25%, Voltage = 12.7V with no heavy electrical loads: likely fine!
To be crystal clear, look at SOC first, and use voltage ONLY to determine whether SOC is lying to you and you are about to run out of power
What is SOC drift, what causes it, and how can I correct it?
This leads us to the next question...why would SOC be incorrect? SOC is a dead reckoned estimate. Dead reckoned estimates can/will drift over time due to accumulated error. See detailed discussion on drift below.
To correct drift, a full charge is needed.

Full charge via shore power overnight is the best way to correct drift. Even if you are not sure there is any drift, get in the habit of topping it off overnight via shore power before any long trip or after every 10 weekend days of use.
A long drive can correct drift, but remember that if drift has occurred, just because SOC says 100% does not mean you are actually at 100%. This is where Amps/Watts come into play.
If you are driving or plugged into shore power and see a combination of 100%, Voltage around 13.6 or higher, as well as Amps/Watts near zero, then you are truly at a full charge.
Solar CANNOT be relied upon to guarantee a full charge or to correct drift due to the limited solar power available on a revel.
I accidentally changed my settings, what should they be (MAKE SURE YOU LOOK AT THE CORRECT YEAR REVEL)??
FOR 2021 THROUGH 2022 REVELS

Main Battery Settings page

Battery capacity: 520Ah (4 battery), 650Ah (5 battery)
Charged voltage: 13.8V
Discharge floor: 0%
Tail current: 3.00%
Charged detection time: 10m
Peukert Exponent: 1.03
Charge efficiency factor: 99%
Current threshold: 0.20A
Time-to-go averaging period: 3m
Battery starts synchronized: ON
State-of-charge: leave unchanged
Zero current calibration: do not touch

Relay

Relay mode: Default
Low SOC relay: set 0%; clear 5%
Low voltage relay: set 11.5V; clear 12V

Alarms
Display

Main voltage, current, power, consumed Ah, State-of-charge: ON
Everything else off

Misc

Monitor mode: battery monitor
Shunt current: 500A
Shunt voltage: 50mV
Aux input: None
FOR 2018 THROUGH 2020 REVELS

Main Battery Settings page

Battery capacity: 420Ah (Stage 1/2), 630Ah (Stage 3)
Charged voltage: 13.8V
Discharge floor: 0%
Tail current: 3.00%
Charged detection time: 10m
Peukert Exponent: 1.03
Charge efficiency factor: 99%
Current threshold: 0.20A
Time-to-go averaging period: 3m
Battery starts synchronized: ON
State-of-charge: leave unchanged
Zero current calibration: do not touch

Relay

Relay mode: Default
Everything else disabled

Alarms
Display

Main voltage, current, power, consumed Ah, State-of-charge, starter voltage: ON
Everything else off

Misc

Monitor mode: battery monitor
Shunt current: 500A
Shunt voltage: 50mV
Aux input: Starter battery